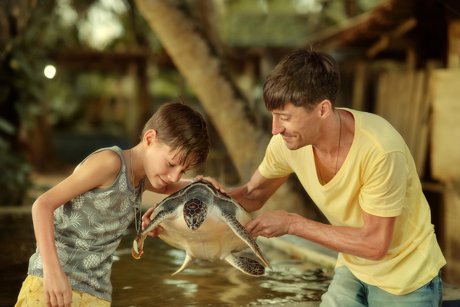 Youngsters living in Grand Junction homes go wild at the Children's Nature Center. Here exotic animals thrive in authentic habitats. The creeping and crawling are well represented with an impressive collection of amphibians and reptiles. Fish swim about and snakes slither by. Colorful birds chatter and chirp drawing attention to themselves as the preen and shake their feathers.
On hand expert biologists impart knowledge of the animals making this their Grand Junction home. Tours teach about the creatures seen. Learning is fun and interactive. Little fingers examine different textures from bumpy to slimy in touch pools. These little scientists may even find the opportunity to pet or hold several animal ambassadors. Observation is encouraged and questions raised such as who is faster the tortoise or the turtle. When a sea urchin sticks to the aquarium glass visitors look closely to see if they can distinguish between its teeth and its feet. The Brittle Star earns curious second glances as his appearance is somewhat between a sea star and an octopus. Those looking for familiar barn animals find aquatic counterparts in the sea horses and cow fish. Giggles turn to laughs when watching the spitting fish or Archer fish as they are officially named.
Science Rules On Grand Junction Real Estate
Rotating exhibits are ever changing and interest many. In a popular display guests take a gander at a reproduced fossil collection showcasing the skull of a mastodon that was discovered in Snowmass, Colorado. Learn more about the actual archaeological finds inspiring the exhibit here.
Educating the local community is key. Specific programs offered are designed for specific grade levels. Field trips rock the house with cheers at the beginning and moans and groans when it's time to pile back in the bus. From darting frogs to spitting fish, pythons to parrots boredom stays well away from this piece of Grand Junction real estate. Located in the Mesa Mall, The Children's Nature Center is a great compromise for complaining kids during shopping. Reward them with an educational break. They won't realize they are learning and you might pick up some information too. Doors are open seven days a week. Hours are Monday through Saturday from 10 a.m. to 4 p.m. and Sunday from 12 to 4 p.m.